Leather furniture is an excellent investment and adds a touch of class to your home. Though leather is extremely durable,
evidence of wear is highly noticeable, which is why cleaning and maintenance are so important. Most cleaning products on the market are not appropriate for leather and may break down leather finishes, leading to dryness and cracking.
Best Carpet Cleaning offers a safe and effective process for leather furniture that restores its natural vibrancy and shine, adding years of life to your investment. With regular cleaning by our Leather Specialist, you can prevent undue wear and keep leather
furniture looking great.
Our Leather Specialist will carefully identify your furniture's leather types and select products specifically designed to clean and remove soil buildups and other stain causing elements. We'll then condition and protect your leather to revitalize and replenish its natural beauty and feel.
It is recommended to establish of regular cleaning schedule that includes professional cleanings every 6 to 12 months, depending on the age of the furniture and amount of wear it gets.
Restore Leather Furniture
Throughout the lifetime of your leather furniture it is bound to get a couple nicks and scrapes along the way. Our Certified Technicians are well-trained to address just these problems. We take time to inspect your leather furniture and apply special pigmentation that matches your furniture's original color.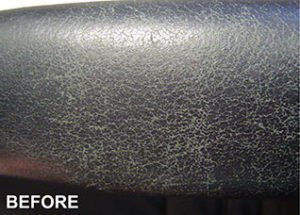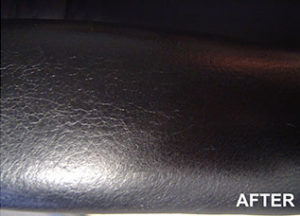 HOW OFTEN DO I CLEAN MY LEATHER?
Once per week – Dust your furniture weekly or when you dust the other items in the room. You can lightly dampen a soft cloth with the Leather Soft Cleaner and wipe the surface. One of the great benefits of leather is that you can fully remove the dust particles from the surface) making it ideal for dust sensitive persons.
4 times a year – Fully clean your furniture at least every six months. For pieces in high use rooms you should clean them every four months. It is important that you pay particular attention to clean all high usage and skin contact areas like: seats, arms, front railing and inside backs.
4 times a year – After full cleanings or spot cleaning, apply the Leather Protection Cream to renew the original protection level. Be sure to apply the Leather Protection Cream to all high usage and skin contact areas like: seats, arms, front railing and inside backs. Regular application of the Leather Protection Cream will prevent stains and allow for easier cleaning.
These steps should take very little time and will make a dramatic difference in the overall appearance of your leather furniture. It is our desire that you have a trouble-free, enjoyable experience with your leather furniture.